This fascinating exhibition presented the findings of a group of specialist art historians, restorers and scientists who examined key works from the Estorick's permanent collection. Using the most up-to-date methods employed in the analysis of artworks, they shed new light on the different techniques used by a number of painters, and in some cases even revealed the presence of previously unknown images beneath, or on the back of, the Collection's masterpieces.

This comprehensive campaign of non- invasive analysis included multispectral high-resolution photography, large-format X-ray imaging and infrared reflectography. Such investigations were combined with new archival research, enabling the team to reconstruct the history of works by artists such as Giorgio de Chirico, Umberto Boccioni and Gino Severini from their creation up to the present day.

Major discoveries included a painting depicting bathing women on the rear of Ardengo Soffici's Cubo-Futurist Deconstruction of the Planes of a Lamp, hidden by the complex framing system that has protected the work for decades. One of the most significant revelations of the show was the discovery of an entirely different work underneath Giacomo Balla's 1912 masterpiece The Hand of the Violinist.

Offering intriguing new perspectives on iconic images, this multi-media exhibition also presented fascinating insights into 'the science of art'. The analysis was undertaken in the context of the project FUTURAHMA. From Futurism to Classicism (1910-1922): Painting Techniques, Art History and Material Analysis, and was carried out by the University of Pisa, the CNR (National Research Centre) in Florence, Perugia and Milan, and the Opificio delle Pietre Dure, Florence.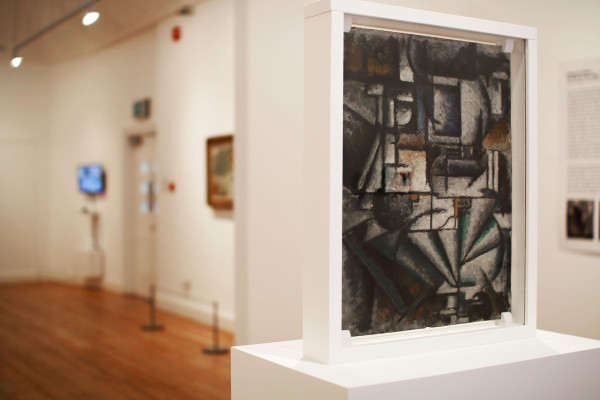 More than Meets the Eye: New Research on the Estorick Collection in our shop