Terra Incognita: Italy's Ceramic Revival presented an extraordinary selection of fifty key works drawn from the Bernd and Eva Hockemeyer Collection of twentieth-century Italian ceramic art.

Italy's strong affinity with the medium of clay stems from its unrivalled cultural history dating back through the splendours of the Italian Renaissance to antiquity. This, combined with a general contempt for the divisions between the fine and decorative arts, promoted ceramics to a central role in Italy's artistic panorama throughout the twentieth century.

In addition to ceramists such as Pietro Melandri and Salvatore Meli, many important Italian sculptors including Marino Marini, Arturo Martini, Lucio Fontana, Leoncillo Leonardi and Fausto Melotti represented Italy on significant national and international platforms. They showed works in terracotta, maiolica and grès at the Rome Quadriennale, the Venice Biennale, the Milan Triennale, various World Fairs and at individual shows including the seminal XX Century Italian Art exhibition held at MoMA, New York, in 1949.

This selection of works, presented to the public for the first time, illustrated sixty years of research into this historic medium by Italian artists and ceramists alike, offering a wealth of different styles, aesthetic ideas and concepts. Included were sculptural figurative works from the inter-war years and new approaches to the classical vase or plate encouraged by Italy's creative explosion of the post-war period and the emergence of Arte Informale. In addition, the role of clay within Italy's avant-garde artistic culture was highlighted by several works by Lucio Fontana which, dating from the 1930s to the 1960s, spanned the artist's entire career.

Curated by art and design historian Lisa Hockemeyer, Terra Incognita: Italy's Ceramic Revival presented a long-overdue consideration of a ceramic culture unique in Europe's artistic landscape of the inter-war and post-war periods.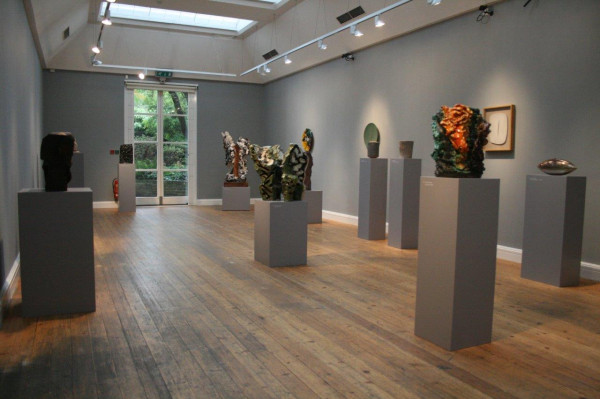 Terra Incognita: Italy's Ceramic Revival in our shop