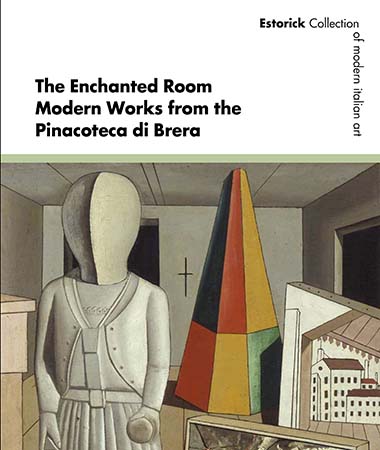 This catalogue was published to accompany the exhibition The Enchanted Room: Modern Works from the Pinacoteca di Brera, held at the Estorick Collection in 2018.
Comprising paintings and sculptures donated to the Pinacoteca di Brera in Milan by Emilio and Maria Jesi, it includes iconic images by Umberto Boccioni, Gino Severini and Mario Sironi, an extraordinary nucleus of Metaphysical paintings by Carlo Carrà, and important works by Giorgio de Chirico, Amedeo Modigliani, Giorgio Morandi and Filippo de Pisis.
The catalogue includes the works shown in the exhibition, and essays from James Bradburne, General Director, Pinacoteca di Brera e Biblioteca Braidense and Marina Gargiulo, Head of Collections at Pinacoteca di Brera.
Paperback: 48 pages
Publisher: Estorick Foundation (2017)
Prices exclude postage and packing costs which will be calculated and added on checkout.
Price: £12.95