Following an extensive refurbishment of the museum, the Estorick Collection reopened with a major exhibition of rarely seen works documenting the role of British forces in Italy during the First World War. Comprising the imagery of official war artists and photographers, it highlighted a forgotten aspect of Britain's involvement in the conflict.

Sydney Carline (1888-1929) produced thrilling drawings and paintings of aerial battles that were much admired by his contemporaries Paul Nash and C.R.W. Nevinson. Carline first created such imagery in his own time as a fighter pilot flying a Sopwith Camel, but was subsequently engaged as an official war artist attached to the RAF.

Ernest Brooks (1878-1941) worked as an official photographer on the Western Front, and is best known for his iconic images of British forces on the Somme and at Passchendaele. The lesser known photographs he took during his assignment to Italy sensitively portray the plight of front-line combat troops and dispossessed Italian civilians scratching a living behind Anglo-Italian lines. The images captured by William Joseph Brunell (b. 1878) reveal an instinctive feel for the stunning views of northern Italy's mountainous terrain, but he also produced intimate and sympathetic images of the young Italian women employed by the British Army Service Corps, unloading railway wagons or washing British Army uniforms.

War in the Sunshine offered very different perspectives on this late phase of World War One, fought in what was undoubtedly one of the most formidable and challenging terrains of the entire conflict.
The exhibition was supported by Kingston University, London and the Paul Mellon Centre and was accompanied by a fully illustrated catalogue with essays by curator Jonathan Black and historian Mark Thompson. Buy now

All works: © IWM (Imperial War Museum)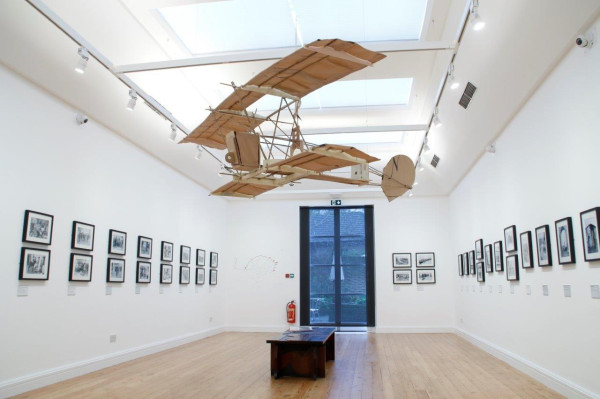 Keith Roberts
Responding to War in the Sunshine

The Estorick invited London-based artist Keith Roberts to produce three new artworks that reflected upon and complemented War in the Sunshine, and which were shown as part of the exhibition.
As Roberts explains, 'The photographs of W. J. Brunell became my key to exploring the exhibition. Brunell, although an official war photographer, remained essentially a civilian. Unless a person has military experience themselves, then all contact with any portrayal of war and conflict is necessarily through a civilian's eyes. How could it be otherwise?'