20 February 2009 marked the centenary of the publication of F.T. Marinetti's Futurist manifesto in the popular Paris newspaper Le Figaro. Although Marinetti himself was a poet, his ideas swiftly attracted artists from other disciplines.

Umberto Boccioni was perhaps the most significant of the five artists associated with the first wave of Futurist painting. Born in the south of Italy, Boccioni later settled in Milan where he experimented with the languages of Divisionism, Symbolism and Expressionism prior to his association with Marinetti's movement.

Equally articulate with verbal and visual imagery, Boccioni went on to become the foremost theorist of Futurist aesthetics, which he expounded with tremendous energy and rigour in his tract Futurist Painting and Sculpture published in 1914, two years prior to his untimely death during a military exercise. The power and energy of Boccioni's thought and work remains exhilarating to this day, and familiarisation with his ideas and imagery makes it clear that the First World War deprived modernism of one of its most talented and promising artists.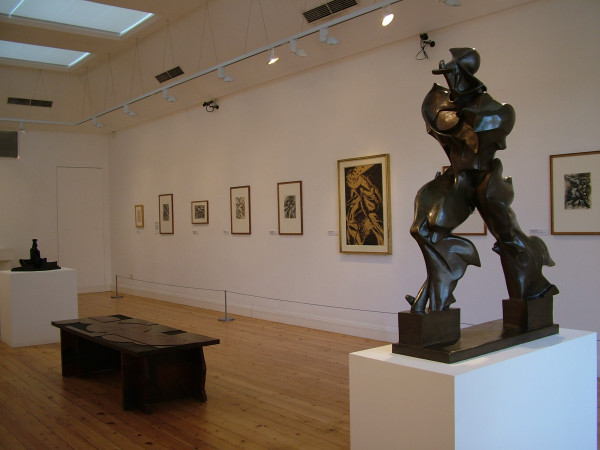 Luca Buvoli: Velocity Zero

Luca Buvoli (b. 1963) is an Italian-born artist who now lives in New York City. In this installation, created for the Estorick Collection, he explores the themes that fascinated the Futurists and the gulf between the ideals that the movement's members espoused and the reality of their application. Buvoli has stated:
'I am revisiting Italian Futurism and its co-option by Fascism not out of historical interest, but because of the parallels with demagogic strategies used today by mediative societies... In my work I deal with philosophical, psychological and sociological issues, and try to propose, within a discrete and creative vision, an alternative to our society's celebration of violence.'
In the centrepiece of the installation, Excerpts from: Velocity Zero, sections of the Futurist manifesto are read out loud by people with speech difficulties. The halting, difficult speech of the readers is contrasted with the values of speed and efficiency espoused by the Futurists.
The exhibition will be accompanied by an illustrated publication with an essay by Francesca Pietropaolo, independent curator.