In autumn 2021, our entire collection of modern Italian art was on show throughout the museum's six galleries in a new exhibition, Estorick Collection Uncut. The top two galleries were devoted to works by Giorgio Morandi Giorgio Morandi (1890-1964), and new responses to these by British artist Paul Coldwell (b.1952) in a new display, A Still Life: Paul Coldwell in Dialogue with Giorgio Morandi.
Coldwell's prints, sculptures and poems, all created in London under lockdown conditions during 2020-21, were shown alongside the Estorick's holding of Morandi's etchings and drawings. Coldwell finds parallels between his own lockdown experience and Morandi's self-imposed restricted life in Bologna, where he lived and worked. Morandi rarely travelled, and his studio-cum-bedroom in the apartment he shared with his sisters provided the setting for his intimate still lifes. As Coldwell notes, "What for others might be seen as limitations, for Morandi became creative opportunities. His work speaks of the capacity of the imagination to escape from confinement, a sentiment that I hope might be found in my work as well." Coldwell's own plaster and wood sculptures, prints and poems explore lockdown.
Coldwell's fascination with Morandi began after learning of his approach to printmaking. This entailed assembling still life objects on makeshift shelves, regrouping them for days as dust settled, and finally drawing an image on a plate, before making a single immersion in acid. Coldwell points out: "It completely reversed the model of the printmaker as one who is wedded to the print room and proposed an altogether more conceptual approach. To view Morandi's prints as fully realised pictures in their own right, gave me confidence by showing that there is nothing to prevent printmaking being of equal importance to painting or sculpture."
A limited edition boxed set of Coldwell's poems with photographs of his sculptures is available to buy in our shop and online.
Click here to buy the exhibition guide.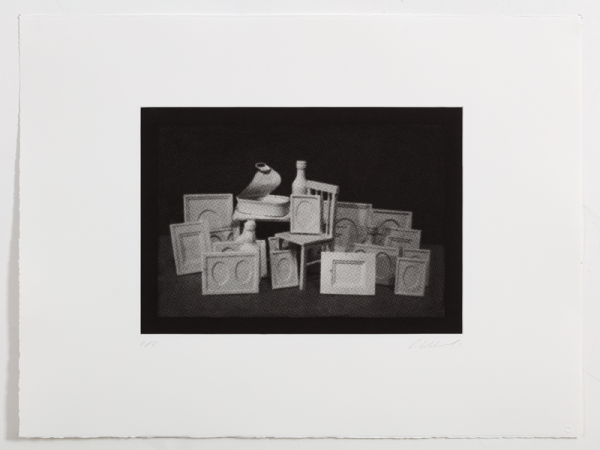 A Still Life: Paul Coldwell in Dialogue with Giorgio Morandi in our shop