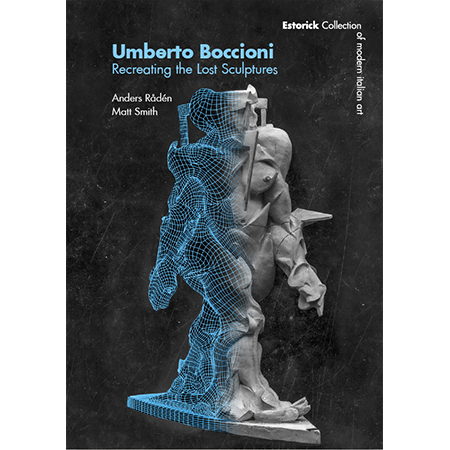 This exhibition guide was published to accompany the show Umberto Boccioni: Recreating the Lost Sculptures, held at the Estorick Collection in 2019.
The destruction, in 1927, of a number of plaster and mixed-media sculptures by the Futurist artist Umberto Boccioni (1882-1916) was a tragic loss for avant-garde art. Of the many ground-breaking sculptures he created between c.1913 and 1915, only a handful remain in existence today. Now, using a combination of vintage photographic material and cutting-edge 3D printing techniques, digital artists Matt Smith and Anders Rådén have recreated four of Boccioni's destroyed works: a volumetric study of a human face titled Empty and Full Abstracts of a Head, and three of the artist's iconic striding figures. This ground-breaking display will enable modern audiences to 'see' these lost masterpieces for the very first time.
The guide includes a selection of the works featured in the exhibition and texts by Matt Smith and Anders Rådén.
Paperback: 30 pages
Publisher: Estorick Foundation (2019)
Prices exclude postage and packing costs which will be calculated and added on checkout.
Delivery times
We are aware that there are currently significant delays in the postal system so please allow longer than usual for your order to arrive. 

Orders from the EU/EEA
Please note that parcels with a value over €22 sent to addresses within the EU/EEA may be subject to import duty and other local taxes and charges. These charges will be due on arrival in the destination country and must be paid by the customer before delivery.
Price: £4.00