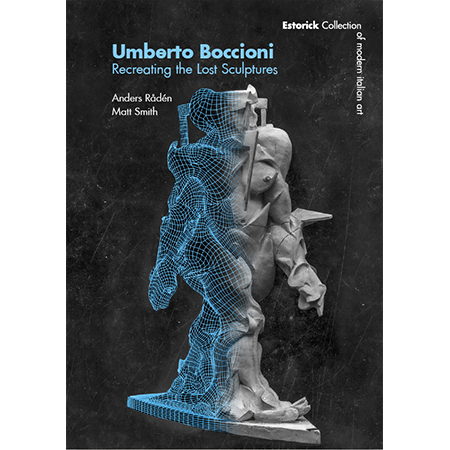 This exhibition guide was published to accompany the show Umberto Boccioni: Recreating the Lost Sculptures, held at the Estorick Collection in 2019.
The destruction, in 1927, of a number of plaster and mixed-media sculptures by the Futurist artist Umberto Boccioni (1882-1916) was a tragic loss for avant-garde art. Of the many ground-breaking sculptures he created between c.1913 and 1915, only a handful remain in existence today. Now, using a combination of vintage photographic material and cutting-edge 3D printing techniques, digital artists Matt Smith and Anders Rådén have recreated four of Boccioni's destroyed works: a volumetric study of a human face titled Empty and Full Abstracts of a Head, and three of the artist's iconic striding figures. This ground-breaking display will enable modern audiences to 'see' these lost masterpieces for the very first time.
The guide includes a selection of the works featured in the exhibition and texts by Matt Smith and Anders Rådén.
Paperback: 30 pages
Publisher: Estorick Foundation (2019)
Prices exclude postage and packing costs which will be calculated and added on checkout.
Price: £4.00