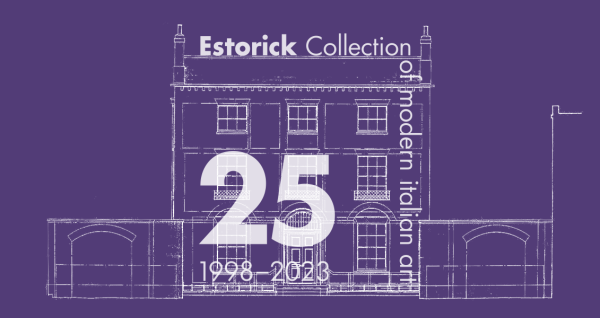 During 2023 the Estorick Collection of Modern Italian Art is celebrating its 25th anniversary with a series of special events and exhibitions by Italian masters including Giorgio Morandi and Osvaldo Licini.

The Collection welcomed its first visitors on 28 January 1998, having been officially opened the previous evening by Chris Smith, now Baron Smith of Finsbury, who was at the time Secretary of State for Culture Media and Sport and our local MP in Islington South. Joining him were Nicholas Serota, members of the Estorick family, and Roberta Cremoncini, at that time the museum's Assistant Curator and now its Director.

The Estorick Collection actually took possession of Northampton Lodge, 39a Canonbury Square, in 1994. Three years were then spent converting the building (which had recently been used as the offices of an IT company) into the home we now know – a process that involved the installation of museum standard gallery lighting and environmental systems. The conversion was planned and overseen by Nathaniel Gee, the only architect responding to the tender to suggest using the original rear of the building as the front entrance to the museum, thereby enabling all of the upstairs rooms to be used as gallery spaces. This approach also promoted better visitor circulation, and allowed visitors to enter the museum through a landscaped garden, which has become an iconic feature of the building.


To celebrate our 25th anniversary, the Estorick Collection will be open on Saturday 28 January with a day filled with fun and informative events relating to the Collection and our history in Canonbury Square.

The Art Time Machine - Family Trail
10.00 - 11.00
​Join our collaborative art workshop and celebrate the 25th birthday of the Estorick Collection. Advance booking required. Find out more

The Estorick Collection: A Close Look - Guided Tour
12.00 - 12.30; 14.00 - 14.30
Discover more about our permanent collection with two informative gallery talks led by our Learning Coordinator.. No advance booking required.

Meet the Curators: the Estorick Collection at 25
15.00 - 17.00
To celebrate our 25th anniversary, curators Roberta Cremoncini and Christopher Adams will be in the galleries for an informal talk with Q&A. No advance booking required. Find out more