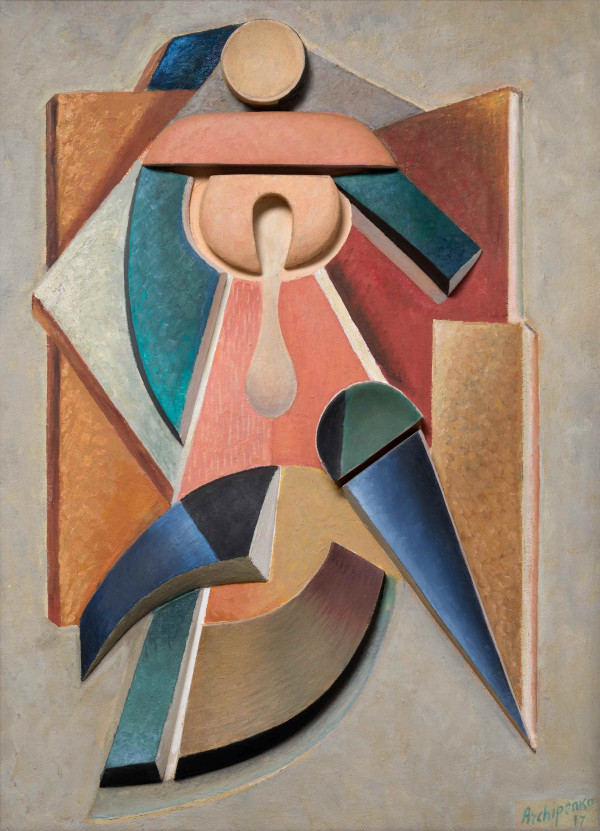 Born in Kyiv, Archipenko (1887-1964) was one of the twentieth century's most influential sculptors. He spent time in Moscow before settling in Paris in 1909, where he developed an emphatically modern interpretation of sculpture under the influence of Cubist imagery. Between 1911 and 1912 he created a number of truly original works in which human figures were broken down into sections that seemed to move in circles and spirals upon themselves.
These works immediately caught the eye of Futurists such as Umberto Boccioni, who would refer to Archipenko repeatedly in his writings on sculpture. Equally influential was the artist's investigation of negative space in sculptural form and his construction of 'sculpto-paintings' incorporating brightly painted elements in high relief.
After the First World War, Archipenko's work became a formal reference point for the new generation of Futurists working in Italy. Among these were Mino Rosso and Thayaht (Ernesto Michahelles) who adopted Archipenko's fluid, streamlined forms in their own 'aerosculptures' of the 1930s. Pioneering the 'biomorphic' approach adopted by many figures belonging to Marinetti's movement at this time, Archipenko's example suggested to young Italian artists how they might keep the avant-garde flame alight in the face of the prevailing 'Return to Order', which emphasised more traditional artistic values. Archipenko's work also informed the iconography of Metaphysical painting, his mannequin-like figures having caught the attention of artists such as Giorgio de Chirico and Carlo Carrà.
This fascinating exhibition, juxtaposing works by Archipenko with imagery by a range of painters and sculptors, is curated by Dr Maria Elena Versari, Visiting Assistant Professor of Art History and Theory at Carnegie Mellon University, and with the cooperation of The Alexander Archipenko Foundation.
Archipenko and the Italian Avant Garde will be on display until 4 September 2022.
Tickets can be booked in advance through Art Tickets