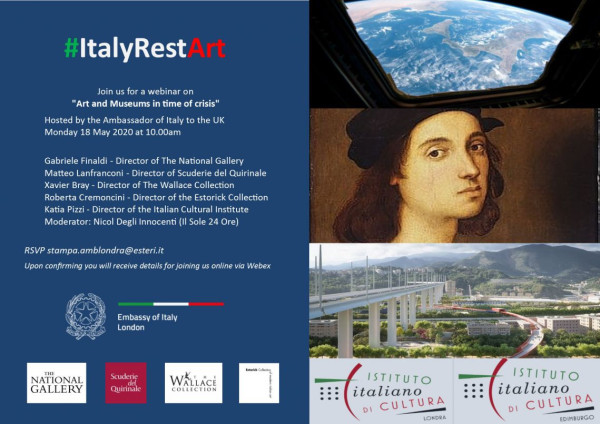 The Italian Embassy in London presents #ItalyRestArt, an initiative to promote culture and science entirely online. Talks, seminars and discussions on topics such as museums, scientific research, the movie industry and literature will be hosted online by the Embassy in partnership with British and Italian cultural, artistic and academic institutions.
ItalyRestArt begins on 18 May with a talk on museums' initiatives to continue to bring art to the public during times of crisis. The ambassador, Raffaele Trombetta, will speak to Gabriele Finaldi, Director of the National Gallery, Matteo Lafranconi, Director of Scuderie del Quirinale, Roberta Cremoncini, Director of the Estorick Collection, Xavier Bray, Director the Wallace Collection and Katia Pizzi, Director of the Italian Cultural Institute. The webinar will be moderated by London-based journalist Nicol Degli Innocenti (Il Sole 24 Ore).
Click here to join the webinar, no booking required.