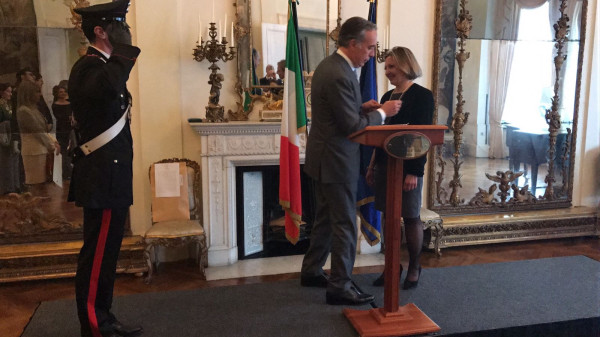 On Tuesday 16 May 2017 Roberta Cremoncini, Director of London's Estorick Collection of Modern Italian Art was awarded the Italian honour of "Cavaliere" of the Order of Merit of the Italian Republic, the equivalent of a British knighthood. In a ceremony in Grosvenor Square London, the Italian Ambassador to the United Kingdom, Pasquale Terracciano presented the honour to Dr Cremoncini for services to Italy.
The Ordine al Merito della Repubblica italiana, established in 1951, is the highest ranking honor of the Italian Republic, and is awarded for "merit acquired for the nation", to those who stand out in the fields of literature, the arts, economy, public service, and social, philanthropic and humanitarian activities and for long and conspicuous service in civilian and military careers.
During a speech at the event, the Ambassador said: "Roberta Cremoncini has always maintained a strong connection with Italy. Constant has been her commitment to enhancing the promotion and development of Italian art in Great Britain. Italy cherishes and applauds her work. The country commends with honours like the one conferred today, people who fully commit with passion to their work, bringing their own contribution to the life and development of Italy. Roberta Cremoncini is a virtuous example of such commitment, proving to be a valuable asset to the cultural enhancement of the vast Italian culture beyond its borders."
Receiving the award, Roberta commented: "I am greatly honoured to receive this award from the Ambassador and the President of the Republic. It would not have been possible had I not been given the opportunity to pursue my passion for promoting Italian art, and am so grateful to the Estorick Collection's Foundation for its faith and confidence in me."
Roberta Cremoncini was born in Florence, graduated in History of Art at Florence University, and completed a PhD in History of Art at the University of Siena. She moved to London in 1991 and worked as Exhibition Officer at the Accademia Italiana, organising a series of important exhibitions on Italian art and culture. In 1994 she joined the American art consultancy Viart and also worked as a freelance consultant for various London-based galleries. She joined the Estorick Collection in 1997 as Curator, and has been Director since 2001.