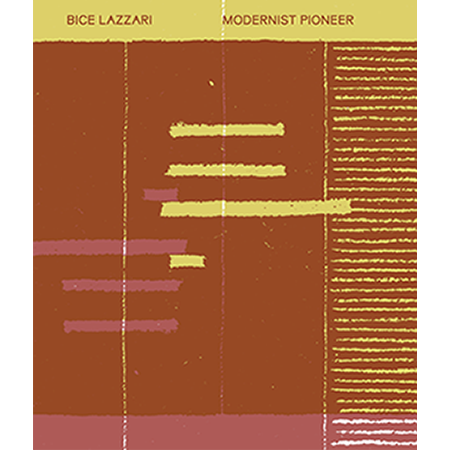 This catalogue was published to accompany the exhibition Bice Lazzari: Modernist Pioneer, held at the Estorick Collection in 2022.
Born in 1900 in Venice, Bice Lazzari studied music before moving on to focus on painting as an adolescent. Initially working largely in landscape, as was the fashion in Venice at the time, Lazzari made her first abstract compositions in the late 1920s, inspired by an interest in applied and decorative arts. Lazzari left Venice in 1935 and moved to Rome, where she remained until her death in 1981, initially supporting herself by collaborating with architects and decorators on abstract designs for clients. It was not until after the Second World War that Lazzari was able to devote herself to painting. Her work explores the formal aspects of painting and drawing, and her mark making was often inspired by music. Graphics, painting and decoration were inseparable elements of her highly individual artistic activity, which took the form of continuous annotations, an ongoing visual diary.
The catalogue includes all the works featured in the exhibition and an essay from curator Renato Miracco.
Paperback: 112 pages
Publisher: Estorick Foundation (2022)
Prices exclude postage and packing costs which will be calculated and added on checkout.
Delivery times
We are aware that there are currently significant delays in the postal system so please allow longer than usual for your order to arrive. 

Orders from the EU/EEA
Please note that parcels with a value over €22 sent to addresses within the EU/EEA may be subject to import duty and other local taxes and charges. These charges will be due on arrival in the destination country and must be paid by the customer before delivery.
Price: £12.95