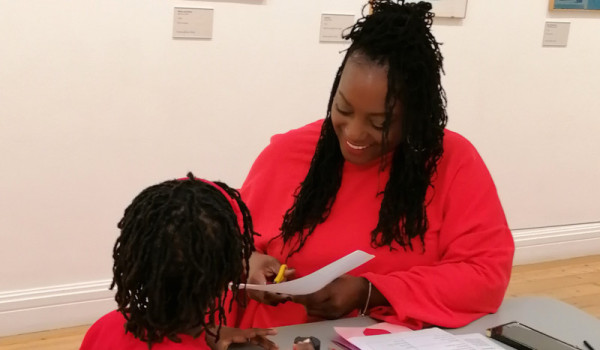 Bring your family to the Estorick Collection this half term for a day of creative and fun activities. Free for children accompanied by a paying adult. Advanced booking recommended.
Words of Kindness (Under 5s)
10.00 - 10.45
Come along to this interactive storytelling and discover stories of kindness and fairness inspired by the Lisetta Carmi exhibition.
Suitable for toddlers.
Printing with light (Ages 5-11)
11.30 - 13.00
Learn the scientific principles of photography and create your own cyanotype print.
Suitable for children ages 5 to 11.
Admission entry for adults, free entry for U18s.
Related events
8 September 2023 - 15 December 2023
10:00 - 11:00
Every other Friday from 8 September, 10.00 – 11.00 explore our interactive and sensory space especially open for families.
21 September 2023 - 14 December 2023
10:00 - 20:00
Every Thursday during the exhibition Lisetta Carmi: Identities the Estorick Collection and Caffè Estorick will be open until 20.00.
30 September 2023 - 25 November 2023
10:00 - 11:00
Slow Art Mornings with Lisetta Carmi
Take this time to unwind from the week, taking a break in our temporary exhibition Lisetta Carmi: Identities. Explore through art, the themes in the exhibition that help us to understand ourselves and the world around us.
T&Cs
The workshop will take place on the ground floor of the building and it is fully accessible.
To find out more about our accessibility statement pleased visit our Visitor information page and our Museum accessibility guide.
Conditions of sale
Please give your name or show your ticket in the shop upon arrival. If you have booked a concessionary or free ticket, please have your membership card, ID, or other proof of concession ready to show in the shop upon arrival.
Tickets can be refunded up to 3 working days before the date of the event. If you have booked a free ticket and can no longer make it, please let us know so that we can make your space available for someone else.