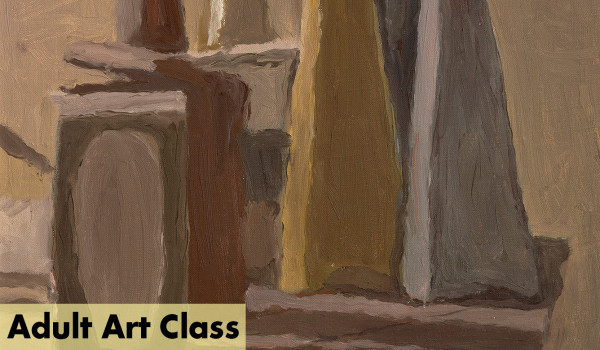 Get inspired by Giorgio Morandi's still lifes from the Magnani-Rocca Foundation and the Estorick Collection.
A fantastic opportunity to explore the captivating simplicity of Morandi's compositions. You will investigate the original artwork in the gallery and draw shapes and objects with scissors. You will learn how to balance colours, shade and light to create your own collage still lifes.
We welcome participants from any background and walks of life. Our classes are open to all: from absolute beginners and those who want to refresh their skills as part of a friendly community of art lovers.
You may also wish to enrol on:
Sessions can be booked separately and work nicely as a structured 2-week course or stand-alone experimental workshops.
We can provide drawing boards and a selection of art materials. You are more than welcome to take your kit with you. Please note: only dry materials are allowed in the gallery spaces.
Your Tutors
Carlo Corsato, Learning Coordinator, Estorick Collection of Modern Italian Art.
Sara Pelle, Artist and Illustrator Sara facilitated creative workshops for Maggie's West London and NCS – The Challenge and worked on learning events at the National Gallery.
£14 / £12 Estorick Collection Members
Related events
6 January 2023 - 28 May 2023
18:30 - 20:00
Every Thursday during the exhibition Giorgio Morandi: Masterpieces from the Magnani-Rocca Foundation the Estorick Collection and Caffè Estorick will be open until 20.00.
27 March 2023
18:30 - 20:30
Life Drawing Class with Giorgio Morandi
Draw in the gallery space directly from a nude model and get inspired by our temporary exhibition _Giorgio Morandi: Masterpieces from the Magnani-Rocca Foundation_. Our informal sessions are introduced by a 10-minute talk discussing key themes of the exhibition.