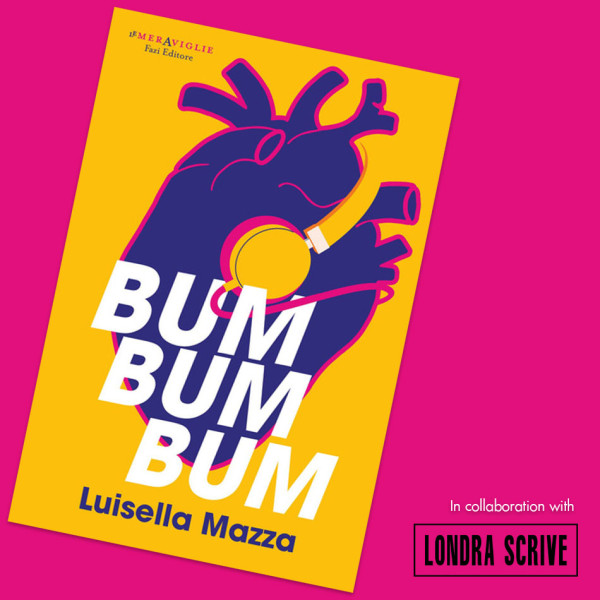 EVENT IN ITALIAN LANGUAGE
Join us for an evening of Italian contemporary literature in collaboration with Ornella Tarantola and Londra Scrive.
Author Luisella Mazza will be joined by Marco Mancassola from Londra Scrive for a fascinating conversation on her new novel BUM BUM BUM, published by Fazi Editore.
Please note that the conversation will be in Italian.
18.00 Doors open
18.30 Conversation starts
"Una storia divertente e commovente, leggera e complessa, appassionante e universale" WIRED

Tutti i cuori battono.
Quello di Oscar più forte degli altri. Oscar, ballerino e maestro di tango argentino, è colto alla sprovvista quando Maria, con cui aveva aperto una piccola scuola di ballo, lo lascia per un insegnante di salsa e bachata. Senza un lavoro e senza un soldo, Oscar si ritrova alla ricerca di un posto dove andare: a fargli compagnia solo il suo cuore, che si fa sentire improvvisamente e sempre più spesso, battendogli nell'orecchio e sussurrandogli canzoni pop e antiche poesie. Mentre cerca di ignorare la voce che sente da dentro e il frenetico bum bum bum di fondo, Oscar tenta di risalire l'abisso: trova una stanza in un piccolo appartamento che condivide con Carlos, arrivato dalle Filippine e intento a studiare l'italiano, Erika, trentenne frenetica, e Luis, dal familiare accento brasiliano. In casa si crea subito un clima di solidarietà. Nella sua vita c'è anche Bianca, amica eccentrica e maestra di yoga.
All'improvviso, però, nella vita di Oscar riappare Maria...
£7.50
Related events
T&Cs
The workshop will take place on the ground floor of the building and it is fully accessible.
To find out more about our accessibility statement pleased visit our Visitor information page and our Museum accessibility guide.
Conditions of sale
Please give your name or show your ticket in the shop upon arrival.
Tickets can be refunded up to 3 working days before the date of the event.