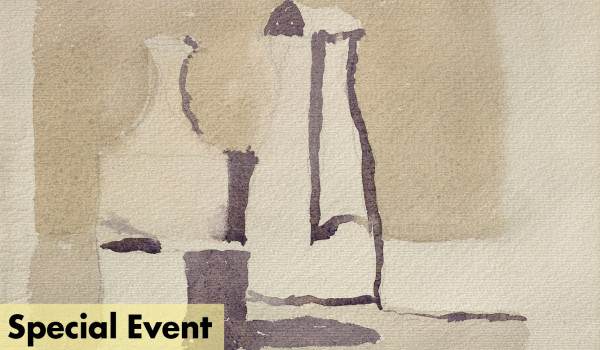 A Night with Giorgio Morandi and Humphrey Ocean RA
Discover the intimate and subtle world of legendary Italian painter Giorgio Morandi with an after-hours exclusive tour led by artist Humphrey Ocean RA.
Humphrey Ocean, born in Sussex in 1951, went to art schools in Tunbridge Wells, Brighton and Canterbury. From 1971 to 1973 he was bass player with Ian Dury's band Kilburn and the High Roads. His work is held in many public collections, including a portrait of Philip Larkin in the NPG, and further works in the British Museum, V&A, The Whitworth, and the Imperial War Museum, amongst others. He has had exhibitions at Tate Liverpool, Dulwich Picture Gallery, The Royal Academy, and many others. He was elected a Royal Academician in 2004 and was Professor of Perspective at the Royal Academy 2012-2020. In 2015 he was made an Honorary Doctor by the University of Kent. Alongside his paintings, Ocean also produces and exhibits sculptures and books, and has worked on various other projects such as advising on Mike Leigh's film Mr Turner, hanging a room for the Royal Academy Summer Exhibition, and appearing in print and on the radio.
He lives and works in London.
Doors open at 18.00, the tour will start at 18.45.

Please note that this is not a seated event and you will be moving between the exhibition galleries located on the ground floor of the museum. Further info on museum accessibility can be found here.
£16 / £14 Estorick Collection Members and Students
Related events
6 January 2023 - 28 May 2023
18:00 - 20:00
Every Thursday during the exhibition Giorgio Morandi: Masterpieces from the Magnani-Rocca Foundation the Estorick Collection and Caffè Estorick will be open until 20.00.
19 May 2023
18:00 - 20:00
Art & Wine at the Estorick Collection
Join us for a night of art & wine tasting at the Estorick Collection. After an introduction to the exhibition Giorgio Morandi: Masterpieces from the Magnani-Rocca Foundation you will have the opportunity to taste and sample five amongst the finest wines produced between Western Friuli and Eastern Veneto.